In this moment in time, our online experience is so much more than just checking emails. The time we spend online increases, so do the digital opportunities up for grabs.
Looking at the transmuting numbers there are about 2 billion websites, but less than 400 million are active.  According to a study less than 64% of small business have website and remaining 36% doesn't really know the significance of going digital.
Credibility
In 2015 survey showed that 84% of consumers believed that having website makes your business more credibility than just a social media page.
A website with adequate and relevant information such as:
Case study of your work
Links to external website that reference your organization
Make easy to contact
Photos and Videos of the office, staff, products etc.
The Information on your webpage gain connection with customers and also legitimates your business and improves your credibility. It gives your business an identity and virtual proof of existence.
Online Presence
 At one time business has grown strictly through referrals and word of mouth. So far, there was no digital presence, but now we can take our business to the next level.
There are over 4.33 billion active internet users worldwide 57% of the entire world population has internet access, number of smart phone users worldwide has increased from 40% in 2016-2020.
It is estimated that by 2025 an increase of 72% of all internet user will solely use smart phone to access web. If your business does not have a website, you are squandering the ability to generate income.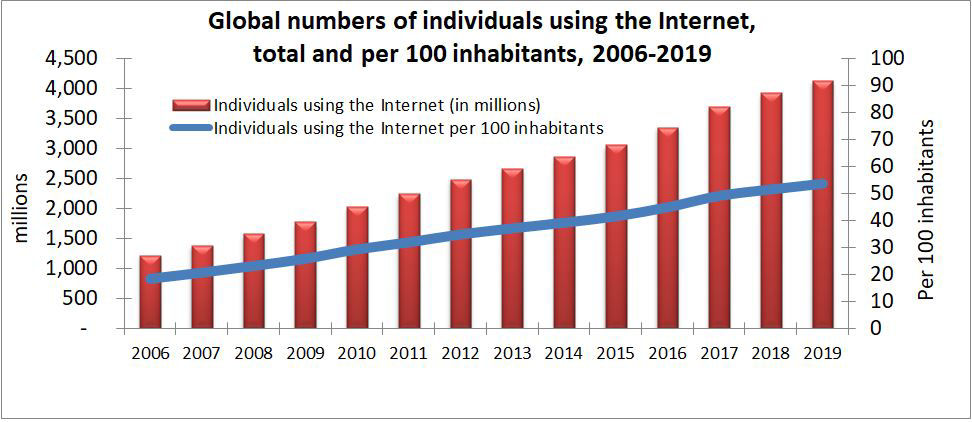 Customer's first port of call is internet and the more traffic you are able to drive to your online presence, the better it will be for your business.
A responsive website will help you to make most of it in the following ways:
Open 24/7 – A website doesn't have fixed business hours. It has business accessibility 24/7, even on holidays.
Ranking – Based on content, search terms or keywords and the quality determine whether a website appears higher on search engine result page.
Flexibility – If you want to make hay while the sun shines, outsource customer service and have a team to manage all the concern and quarries via chat or email support to your website.
Content – Creating high quality content and adding valuable backlinks improves organic ranking, indexing, and referral traffic it also attract people to know more about our website.
Marketing 
Before the internet, businesses only had a few ways to market their products, through printing flyers, business cards, sponsoring local events or press release. Now there are multifarious opportunities out there on the web.
Online marketing allow you to reach and acquire more customers. It is fast-moving, inexpensive and powerful weapon to target audience, some of the online marketing tools to create inbound traffic to your website are:
Blogging – Approximately 5.8 million new blog posts are created every day and 77% of internet users read blogs. Adding a blog to your website can increase traffic as much as 434%.
Email-marketing – As per a study done in 2019 email-marketing is up to 40 times more effective than social media.
Social Media – 321 million new people joined social media in 2019, which brought the total from 3.48 billion to 3.8 billion social media users, an increase of 9% in 2020.
Videos – Internet users spend 06 hours and 48 minutes per week watching videos online and 87% of marketing professionals use video as a marketing tool.
Shop Window
The homepage is your shop window, where you invite people in and explain what you're all about. A home page also directs visitors to other pages of your website through navigation.
Utilize the critical few or 80-20 rule, which explains that 80% of the content should be relevant to the customer's needs while 20% should educate them about your business.
Choosing the right domain name, organising the site logically and including nifty features can help your visitors find exactly what they are looking for.
Statistics 2020 estimated 1.8 billion people worldwide purchase goods online. 63% of shopping occasions begin online and nearly half of the customers shop more on mobile than in-store.
Easy to Set-up
First and foremost don't be intimated: the tools and technology available today are easy to learn, easy to use and easy to acquire; many are even free.
Find Scope – You have lot of options for building a digital presence, including things like local listing, websites, mobile apps and social media.
Get Shoppers – After building a home of your own on the web, give your potential customers a glimpse into your business and what you can do, to help them explore more in detail.
Create Team – You can also look for the candidates who can run your business just by adding a career page to your website. According to statistics 35% of applications were received through career website in 2018.
Escalate Leads
Leads means revenue and revenue means more profit. With a well optimized website you can capture a prospect's contact information, name, email address, and other qualifying attributes that will aid your selling process.
You can also use forms to collect meaningful data points and can run a giveaway contest to generate a ton of email and social leads in a short period of time.
Cross-Boarders
If your potential customers are in different countries or speak multiple languages, you need to speak customer's language and there are many aspects to consider:
Brand Value – If you are looking to increase your customer base, consider adopting global branding,   which would involve standardized global advertising, as well as global marketing strategies.
Country Targeting – if your website has a country code top level domain name, it's a strong indication that your site targets a specific country.
Language/Localisation – English is used 59.3% of all the websites. Make sure each page is in a different language and has unique web page.
Competition   
To be the foremost in today's world one should know the importance of being online. Website is a good place to start, ways to increase your competitiveness are:
Content Marketing – You can encourage others to write about you and share links to your website. 2018 statistics show that 91% of B2B marketers use content marketing to reach customers.
E-Commerce – Adding an e-commerce platform to your website is like icing on the cake. In 2019, retail e-commerce sales worldwide amounted to 3.53 trillion U.S. dollars.
Search Engine Marketing (SEM) –it involves the promotion of a website by increasing the visibility in SERPs primarily through paid advertising.
Search Engine Optimization (SEO) – Making improvements to your website to help it appear in unpaid organic results.
Use of Analytics
It is very important to make sure your digital plan is geared towards long haul, if not use analytics to track and measure what you're doing and how it's working.
Measure online traffic – On average, there are 40.77 exabytes of mobile traffic every month. Analytics shows the number of users and visitors arriving at the site via the different sources like a search engines, email, social media, and display ads.
Optimizing and Tracking of market campaigns – This enables marketers to align their resources in the right campaign or channel.
Tracking bounce rate – Maintaining a lower bounce rate is an essential part of SEO. It is the percentage of visitors who leave your website without interacting with it.
Tracking business goals online – Analytics tools are the only way to set the right priorities and measure the effectiveness, profitability, and weakness of your business goals.
Online Portfolio
It is said that first impression is the last impression; your professional portfolio is the key ingredient through which customers can get attracted easily.
Things you can consider adding to your portfolio website:
Relevant education, certification, and awards
About page (tell your story)
Call to action (address, contact, roadmap)
Custom logo and tag line
Testimonials
Review section etc.
Recognition
Online success starts with an imposing domain. It is a constructive marketing and search tool that leads potential customers to your site, the same way people find you in real world.
Domain name registrations have grown by 14.9 million or, 4.2%, year over year. In 2019 there were 35.8 million domain names registered. The .com and .net TLDs had a combined total of 154.8 domain name registrations.
Creating and buying domain name not only adds professional credibility to your business but also separates you from million of get-rich-quick scheme websites out there.  You can also amplify your brand equity by adding a unique business email.
As per the statistics, 85% of customers trust online reviews as much as personal recommendations and 49% of customers need at least four-star rating before they choose to use a business.
All in One
Today websites are more advanced and equipped in technological aspects that can turn into an all-in-one business hub.
Provides customer services 24/7 via chat, email, contact or build in the form
Gives your customers an interactive experience with the use of 360-degree images and videos
Educate your audience with blogs, e-books, modules, content, and training manuals
Gives clear-cut information about your business through location map, direction, email address, contact number
Provides organized customer information with a built-in CRM
Finalize business transactions through various modes of payment.
Conclusion
We have listed a number of ways that a website can be beneficial from a multinational conglomerate to a small business; digital presence is a key component for taking our business to the next level. It is a continuous process and is becoming more and more important to business as technology continues to advance and the possibilities have become endless for both business and consumers.
Tags: Advantages of website, the importance of having a website